Identifying Period Features in homes
---
11/05/2017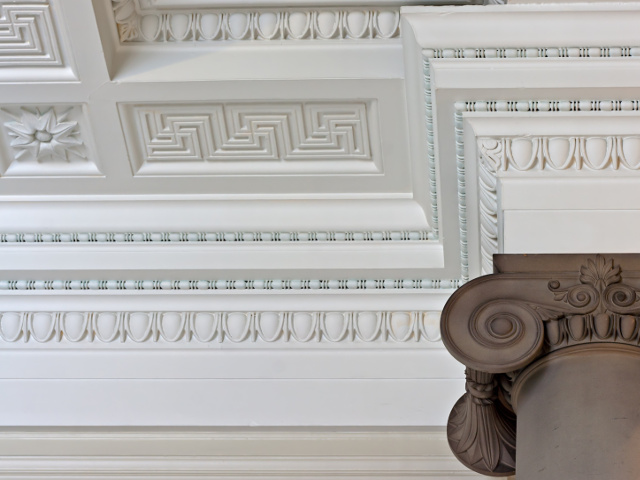 Within many Victorian and Georgian properties, trims and mouldings were implemented for both form and function. Several came to exist purely due to the construction limits of the era, whilst others were inspirations of classic architecture. Interior mouldings were often considered a sign of a room's relevance; the more decorative designs were used only in areas seen by guests. Below are some period features to keep an eye out for when you next go view a property.
---

---
Cornice
This is a plaster trim which covers the changeover between the ceiling and wall. It can be implemented in a plain or more elaborate form; in more modest homes it doesn't tend to show up as often.
Corbels
Corbels are ornamental brackets used in Victorian and Edwardian hallways, usually presented in the shape of an arch. Similar supports can be found in slate and marble fireplaces from the period underneath the mantelpiece.
This is a section of architrave that sits about 90cm from the floor. Over the Georgian period it was common to lean dining chairs up against the walls, with dado rails there to protect the décor from damage. Once the Victorian era arrived, trends evolved and these rails began to disappear, before returning at the start of the 20th century as a form of decoration.
Picture rail
This is a wooden trim made from architrave, framing the top 30cm of wall. Picture rails were commonly used to hang pictures, creating a dedicated display area above the dado rail.
Plaster frieze
In bigger properties, picture rails were often ignored in favour of ornate plaster frieze, which ran from the cornice down to the top area of the walls. By 1856 plasterwork had entered a new area with the creation of fibrous plaster, using sheets of hessian to boost its strength.
Skirting board
Skirting is a wooden trim, formed to disguise the crossover between walls and floors, as well as offer protection from scratches and knocks. Mouldings made of timber were popular throughout the Georgian era, taking inspiration from classical architecture. By the Victorian era, manufacturing became easier with the introduction of machinery. When dado rails went out of style, skirting grew in popularity as well as size to create balance for the dimensions of larger ceilings.
Ceiling rose
This is an elaborate circle of plaster moulding used to disguise where the hanging light is attached to a ceiling. This particular feature is designed to catch the smoke that rises from gas lights. Many designs had holes in them to allow fumes to escape between the ceiling and the floor above.
Have you found any of the above in properties you've viewed as of late? Let us know on Twitter @felicityjlord!